Winning Stock Forecast: Nektar Therapeutics (NASDAQ: NKTR) Up 340.47% In 1-Year As Forecasted Amid Its Stock Volatility
Winning Stock Forecast: Nektar Therapeutics (NASDAQ: NKTR) Up 340.47% In 1-Year As Forecasted Amid Its Stock Volatility
[Source: Live Trading News, May 23, 2018]
"Already, this year to-date, we have achieved multiple successes with our pipeline of Nektar invented medicines across three therapeutic areas, immuno-oncology, immunology and pain. In the area of chronic pain, we will submit the NDA for NKTR-181 to the FDA this month"
— Howard Robin – President and CEO of Nektar Therapeutics
Summary
Over the past year  NKTR went up 340.47%
They are one of the most robust growers investors more so during the past 12 months – due to many catalysts powering the firm.
Nektar recently commenced the phase 1B study of NKTR-358 for systemic lupus erythematosus.
If the mentioned drug can post robust clinical outcomes as prognosticated, it can cut into the $45.5B autoimmune diseases market to deliver significantly more upsides for Nektar.
Over the past year, from May 21 2017 through May 21 2018, NKTR produced a whopping 340.47% return to investors. Nektar Therapeutics is one of the most robust growers investors have encountered in all years of analytical research, especially during the past 12 months: this is due to many catalysts powering the firm. One, the company obtained the $1.85 billion collaborative deal with Bristol-Myers Squibb on February 14, 2018 for the investigation of NKTR-214 in 20 different cancer diagnoses. Approximately two months afterwards (on April 12), the company announced the dosing of the first patient in the REVEAL trial that created substantial value to their investing thesis. Nevertheless, all recent developments are minuscule compared to what will come. In this article, we'll clarify the latest catalysts that gave Nektar substantial upside in the long haul, and will continue to do so in the coming months.
[Source: Yahoo Finance, May 23, 2018]
Fundamental Analysis
Operating out of San Francisco, CA, the company is leveraging on its expertise in polymer chemistry to develop an extremely vast and enriched pipeline. The structural adeptness of its polymer platform can enable the company to effectively customize the therapeutic behavior of many drugs. Therefore, the targeting of understood pathways maximizes the chances of finding molecules that have clinically meaningful benefits. Central to the pipeline is NKTR-214 (a CD-122 agonist), which is the first immuno-oncology (I-O) agent to both increase tumor-infiltrating lymphocytes ("TILs") and to enhance PD-1 expression in human immune cells. NKTR-214 can uniquely complement checkpoint inhibitors and other anti-cancer mechanisms. Many patients have tumors that do not express PD-L1 (in which, they receive limited benefits from the treatment with checkpoint inhibitors); therefore, these patients can benefit greatly from NKTR-214. That being said, in NKTR-262  is highly interesting – a new toll-like receptor ("TLR") enhancer that stimulates the body's innate immune (defense) response to create antigen-specific T cells to fight cancer.
See the figure below for more information on the pipeline.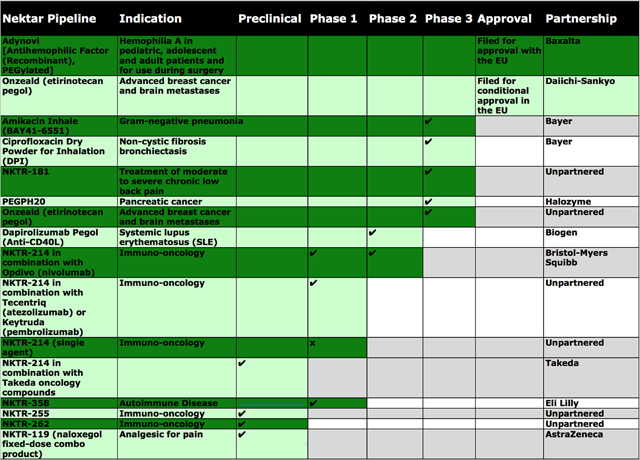 [Source: Therapeutic pipeline (Source: Dr. Tran BioSci)]
On May 8, Nektar disclosed that the company has commenced the dosing of patients afflicted by systemic lupus erythematosus ("SLE") in a phase 1b clinical study assessing the efficacy and safety of NKTR-358. As the first-in-class regulatory T-cell stimulator, the drug selectively promotes the proliferation of regulatory T-cells (T-regs) needed to relieve the imbalance in autoimmune diseases like SLE.
It is often referred that thymus ("T") cells are "the generals" of the immune system due to their critical role of fighting cancers and infectious diseases. In other words, T-cells direct the activities of other immune players. Moreover, there are various types of T-cells. As follows, killer (CD8) T-cells are responsible for the direct destruction of tumors and viruses. CD4 (helper) T-cells are involved in the intelligence gathering and memory storage (to enable the defense system to quickly launch a massive campaign when faced by the same antigen encountered previously). As for T-regs, they modulate the activities of other T-cells. And in regulating this population of specialized cells, NKTR-358 helps to restore the aforesaid imbalance seen in autoimmune diseases.
To better appreciate the ramifications of NKTR-358, let's assess the underlying science of SLE. As an autoimmune disease, SLE occurs when the body mistakenly develops antibodies against its DNA and the histone proteins (used to pack those genetic materials). Consequently, the patients exhibit a plethora of symptoms affecting nearly all bodily organs. Nevertheless, the constitutional symptoms (fatigue, joint pain, fever, and night sweats) are quite common. A differentiating feature is the butterfly rash found between the nasal bridge, which demonstrates as a dotted red rash in the middle of the face Treatment-wise, the standard of care is with a low-dose steroid (prednisone) to "calm" the immune system, thereby deterring it from attacking the body. Notwithstanding, prolonged steroid use leads to significant adverse effects, such as bone thinning, truncal obesity, and opportunistic infections.
As alluded, NKTR-358 is uniquely special because it represents a novel and unique approach toward managing SLE that is unprecedented. By targeting the interleukin-2 ("IL2") complex, NKTR-358 induces T-reqs production (to suppress other immune cells). This selectivity confers great advantages in both efficacy and safety. In preclinical studies, NKTR-358 demonstrated the stellar ability to inhibit antigen-driven inflammation in a skin hypersensitivity model. The said molecule also exhibited the ability to reduce SLE progressing in a mouse paradigm.
As regards the clinical trial mentioned, the phase 1B study is a double-blinded, randomized, placebo-controlled assessment of the efficacy and safety, pharmacokinetics, and immunological effects of multiple ascending doses of NKTR-358 in 50 patients afflicted by SLE. In addition, the decrease in SLE flare will be closely monitored. Encouraged by the recent development, the SVP in charge of NKTR-358, Dr. Brian Kotzin, expressed: "NKTR-358 has the potential to address the immune system imbalance that underlies autoimmune diseases such as lupus by driving the expansion and functional activity of Tregs to restore immune homeostasis in the body. We are excited about the start of the clinical study and the potential of NKTR-358 to provide a positive benefit for patients with SLE."
However, NKTR stocks are down 9% on release of Phase 1/2 data on NKTR-214. NKTR is down in light volume in early trade in response to the release of abstracts for ASCO that included updated data from the Phase 1/2 PIVOT study evaluating NKTR-214 + Bristol-Myers Squibb's Opdivo (nivolumab) in patients with advanced solid tumors. Investors appear disappointed with the melanoma results. The overall response rate (ORR) in 23 patients was 52% (n=12/23) while the disease control rate (DCR) (responders + those with stable cancer) was 78% (n=18/23). The ORR for Opdivo alone in the CHECKMATE-066 study (BRAF V600 wild-type) was 34% while the DCR was 82%.
Bullish Outlook and Final Remarks:
Thus, from the context above, it can be noted that harnessing the power of the highly adaptable polymer chemistry, Nektar is demonstrating an extremely enriched and vast pipeline of potential powerful blockbusters. The recent advancement of NKTR-358 is a highly promising catalyst, as it is a novel molecule with the potential to capture the gargantuan $45.5 billion market. If the clinical outcomes in the foreseeable future are as good as we anticipated, Nektar can become an acquisition target for other large biosciences such as Gilead Sciences, Novartis, Sanofi, Merck, and Johnson & Johnson. Risk-wise, it is too early in the innovation process to come to a definitive conclusion relating to the efficacy and safety of NKTR-358. And a negative data reporting for the said drug can cause the stock to tumble anywhere to 30%. However, I stand by my bullish opinion that NKTR is bound for greatness, as they are creating breakthroughs in medicine, regardless of their sluggish advancement in their clinical trials. I believe they will overcome these minor fleeting issues and continue remaining successful profit-wise and stock-wise.
Analyst Recommendations:
According to analyst recommendations from Yahoo Finance, the current consensus is a "Buy" in NKTR Stock, with 5 advising a "Strong Buy", 5 advising a "Buy" and 1 advising a "Hold".
[Source: Yahoo Finance, May 23, 2018]
On May 21st 2017, Know First issued a bullish 1- year forecast for Nektar Therapeutics (NASDAQ: NKTR).  The forecast illustrated a signal of 55.61 and a predictability of 0.38 In accordance with the forecast, NKTR stock returned 340.47% over this period, highlighting the accuracy of the prediction produced by the I Know First algorithm.
Current I Know First subscribers received this bullish NKTR forecast on May 21st 2017.
To subscribe today click here.
Please note-for trading decisions use the most recent forecast. Get today's forecast and Top stock picks.
About Nektar Therapeutics:
Nektar Therapeutics (NASDAQ: NKTR), a research-based biopharmaceutical company, discovers and develops drug candidates for cancer, auto-immune disease, and chronic pain based on its PEGylation and polymer conjugate technology platforms in the United States. The company offers ONZEALD, a topoisomerase I inhibitor that is in Phase III clinical trial for advanced metastatic breast cancer in patients with brain metastases; NKTR-181, an orally-available mu-opioid analgesic molecule, which is in Phase III clinical trial for moderate to severe chronic pain; NKTR-214, a cytokine immunostimulatory therapy that is in Phase I/II to treat cancer; NKTR-358, which is in Phase I to treat autoimmune diseases; and NKTR-262 for solid tumors, as well as NKTR-255 that is under research/preclinical stage for immuno-oncology. It is also developing MOVANTIK for opioid-induced constipation in adult patients with chronic non-cancer pain, and who have an inadequate response to laxatives; ADYNOVATE for hemophilia A; Somavert to treat acromegaly; and Neulasta for treating neutropenia. In addition, the company develops PEG-INTRON for the treatment of hepatitis-C; Macugen for age-related macular degeneration; CIMZIA to treat rheumatoid arthritis, Crohn's disease, and psoriasis/ankylosing spondylitis; and MIRCERA for anemia related to chronic kidney disease in patients on and not on dialysis. Further, it is developing SEMPRANA to treat migraine; dapirolizumab pegol for systemic lupus erythematosus; PEGPH20 for ancreatic, non-small cell lung cancer, and other tumor types; and longer-acting blood clotting proteins for hemophilia. The company has collaboration agreements with AstraZeneca AB, Shire plc, Pfizer Inc., Amgen Inc., Merck & Co., Inc., Valeant Pharmaceuticals International, Inc., UCB Pharma S.A., F. Hoffmann-La Roche Ltd, Allergan, Inc., Halozyme Therapeutics, Inc., and Baxalta Incorporated. Nektar Therapeutics was founded in 1990 and is headquartered in San Francisco, California.
Disclaimer
Before making any trading decisions, consult the latest forecast as the algorithm updates predictions daily. You can use the algorithm for intra-day trading. The predictability tends to become stronger with forecasts over longer time-horizons such as the 1-month, 3-month and 1-year forecasts. Algorithmic traders utilize these daily forecasts by the I Know First market prediction system as a tool to enhance portfolio performance, verify their own analysis and act on market opportunities faster. This forecast was sent to current I Know First subscribers.