MU Stock Predictions: Demand for DRAM Will Positively Drive Stock
  The article was written by Moises Meir, a Financial Analyst at I Know First. 
MU Stock Predictions
Summary
Internal Strengths and External Opportunities Align
Micron NVDIMM-N Project
Micron Technology's Financial and Stock Performance
I Know First Bullish Forecast
Micron Technology Inc. (NASDAQ: MU) is one of the world's leading providers of advanced semiconductor systems. The company specializes in providing DRAM, NAND flash; 3D XPoint™ memory and other products to chip and memory manufacturing companies. Micron Technology has big name customers that include: Kingston, Intel and Hewlett Packard. Micron is the third largest company in the ever-increasing memory market and they are the largest in the western hemisphere. Their market share is calculated at 21%, behind Samsung Electronics and SK Hynix. They were founded in 1978 and are headquartered in Idaho, United States.
Internal Strengths and External Opportunities Align
MU has gone through some very beneficial changes since May of this year. It started with Sanjay Merohtra's appointment as CEO. Merohtra brought unique experience and valuable leadership to Micron, as he served as CEO for SanDisk, a company that held more than 70 patents in the area of nonvolatile memory design and flash memory systems. Merohtra immediately changed the focus of Micron to achieve scaleability, power efficiency, and fast data access in its products, because these features are now on higher demand than ever before.
A few months later, Micron announced the commissioning of a new $200 million facility in Boise, Idaho, which the company claims is the "largest semiconductor research center for memory technology in the Western Hemisphere", also the company has doubled in scale of its R&D function.
Micron's success has always been correlated with demand and pricing for its products. Its stock price has been the beneficiary of a number of reports out in the past few days all pointing towards rising memory prices. While not surprising, it's always good to hear confirmation of expectations. Considering just how rapidly prices are rising and the relatively conservative approach the companies in the industry are taking in terms of building out capacity, it looks like the party is just getting started.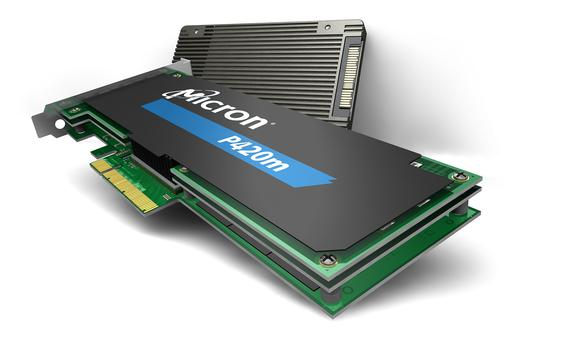 There has been numerous bullish developments and reports regarding memory pricing including a 31% rise in VGA RAM prices in August due to supply shortages. Samsung's plan to raise mobile DRAM prices by 10%-20% in Q4, a note from Cleveland Research predicting tight DRAM and NAND supply into the first half of 2018, DRAMeXchange's expectations for DRAM prices to keep rising in the second half of 2017, a report from Nikkei that SSD prices rose for the fourteenth straight month, and many more.
Its also worth noting that the second half of the year is always particularly strong for the DRAM industry because of the holiday season.
Micron NVDIMM-N Project
In addition of their star product DRAM, Micron is also developing NVDIMM-N modules. The module computes like an RDIMM, but, when the system loses power, the data is backed up to NAND storage. The memory is nonvolatile, because it recovers when the system reboots.
Persistent memory was a groundbreaking solution, but it isn't new to Micron. Two years ago, they were sampling 8GB NVDIMM-N with their own firmware. Today, MU is in production of that legacy module, plus JEDEC standard 8GB and 16GB DDR4-NVDIMM-N.
Micron's NVDIMM-N portfolio is expanding and improving. MU hopes to finish sampling and enter production for 32GB NVDIMM-N by the end of this year. Lagging speed will be a thing of the past, because MU will offer 2666 MT/s data rates for 16GB and 32GB modules before 2018 (as the 8GB is caught up to mainstream RDIMM speeds).
NVDIMM-N capabilities improve the company while improving customer performance. Last year, Microsoft measured the performance of Micron 8GB DDR4-NVDIMM-N in block and DAX mode to standard NVMe SSD while using a HPE ProLiant Gen9 Server. The results are summarized below:
MU's stock has increased steadily in the last 52 weeks. One year ago the stock price was at a low point for that timeframe of $15.51. As of today the price is $30.12, an increase of 96%. The second half of July saw Micron slump 12%, but some investors looked at the decline as an opportunity. Jim Cramer said that MU stock is trading at a "ridiculously low multiple" and that now its the moment to invest. Stifel Nicolaus reiterated his "buy" rating for MU, citing the same bullish trends in the DRAM market mentioned above.
According to DRAMeXchange, the average contract prices for PC DRAM modules clocked in at $24 in Q1, up 40% sequentially, then climbed to $27 in Q2. In addition, Citi sees demand exceeding supply by 2% this year and another 5% next year, making for continued price recovery. These trends helped Micron enjoy a massive third quarter (sales growth of 92% YoY).
MU's stock is still up 27.8% in the year-to-date, but still looks cheap compared to its growth profile with earnings slated to grow over 150% over the next five years. Savvy investors should take full advantage of the the cyclical upturn in the DRAM and NAND markets.
Conclusion
The improving business climate for DRAM and NAND Flash storage products is a strong tailwind for Micron. The average price target for MU is $43.28. This is notably higher than the actual price target of $30.45 which gives an excellent upside of over 40%.
At I Know first we are also highly optimistic for MU. Our deep-learning computers of I Know First currently tout strong buy signal for Micron's stock in the long term. Signal strength for 3-month is favorable and for 1-year its extremely favorable. Both time horizons show a predictability factor above 0.75 which means that its very probable that Micron's stock will soar in late 2017 and 2018.
Past I Know First's Success with MU
On September 2nd, 2016, I Know First published a bullish article on MU. Reasons for the optimism a year ago included: High demand for NAND Flash and DRAM (just like today), and a increasingly positive hedge fun activity on MU for 2016. As you have read throughout this article, MU's price almost phenomenally increased by 82.57%.
I Know First Algorithm Heatmap Explanation
The sign of the signal tells in which direction the asset price is expected to go (positive = to go up = Long, negative = to drop = Short position), the signal strength is related to the magnitude of the expected return and is used for ranking purposes of the investment opportunities.
Predictability is the actual fitness function being optimized every day, and can be simplified explained as the correlation based quality measure of the signal. This is a unique indicator of the I Know First algorithm, allowing the user to separate and focus on the most predictable assets according to the algorithm. Ranging between -1 and 1, one should focus on predictability levels significantly above in order to fill confident about/trust the signal.

---