JetBlue Stock Analysis: Brighter Skies in the Future
Linda Luo is a Financial Analyst at I Know First.
 JetBlue Stock Analysis: Brighter Skies in the Future
Summary
Q1 Financial Results
Brighter Skies in the Future – Long Term Outlook is Positive
Mint Expansion Remains Crucial to JetBlue's Growth
Cost Control and Capacity Cuts
Conclusion
JetBlue Airways Corporation (JBLU) is an American passenger carrier company that provides low-cost air transportation services. Headquartered in New York City and founded in 1998, the company is the sixth largest airline in the United States. JetBlue serves 101 destinations in the US, Mexico, the Caribbean, Central America, and South America. JetBlue's competitive low fares pose a threat to other low-cost carriers. The airline differentiates itself by raising the bar for in-flight experience. It is the first airline to offer personalized in-flight entertainment for all passengers. I Know First continues to maintain its bullish forecast for JetBlue.
Q1 Financial Results
JetBlue released its financials for the first quarter of 2017 in April. Despite a 58% decline in its operating profits compared to the first quarter of 2016, Wall Street remains optimistic about the company's future. Amid profit decline, JetBlue still surpassed expectations with its reported earnings per share of $0.25, beating FactSet consensus of $0.22. JetBlue shares climbed 3% after its Q1 earnings report release.
A combination of several external factors could account for JetBlue's underperformance for this quarter. For instance, JetBlue, along with the rest of the airline industry, has been coping with increased fuel costs. Fuel prices have climbed 44.1% year over year from the first quarter of 2016. Furthermore, non-fuel costs are also on the rise amid recent wage increases and rising maintenance costs.
In addition, a shift in the holiday calendar represented a significant drag on JetBlue's performance in the first quarter. The Easter holiday occurred in the first quarter last year, but is shifted to the second quarter this year. Coupled with Christmas and New Year's Day essentially spanning the same work week, the timing of the holidays created a tough comparison for JetBlue this quarter. JetBlue has also opened many new routes this year, which dampened its revenue per available seat mile (RASM). RASM is an indicator of an airline's profitability and is the result of dividing operating income by available seat miles.
Brighter Skies in the Future – Long Term Outlook is Positive
From a long term perspective, the current dent in JetBlue's Q1 financials is not cause for concern as it is facing temporary headwinds. JetBlue's strong overall growth trend is indicated by its high earnings per share (EPS) growth of 51% over the last five years.
Namely, falling ticket prices have been plaguing JetBlue, along with other airlines, for most of 2016. JetBlue's Q1 report showed that its fares fell 7.8% this quarter year over year, pinching at its unit revenue growth. However, analysts such as Helane Baker from Cowen have indicated their optimism that airfares will rebound in the coming months of 2017 from its downward trend in 2016. This trend should help boost JetBlue's profitability.
Moreover, things are already looking up for its second quarter performance. As disclosed in its monthly RASM report, JetBlue stood to benefit from Easter's timing in the second quarter. Its April RASM experienced double-digit growth of 10.5% year over year. It showed a positive recovery from the 5.8% year over year decrease in RASM for the first quarter. At an investor conference in May, the company raised its RASM growth expectations for the second quarter of 2017 due to growing underlying demand. In its initial Q1 report, JetBlue had expected a 3%-6% year over year growth in RASM for the second quarter. Now it expects a 4%-6% increase.
Mint Expansion Remains Crucial to JetBlue's Growth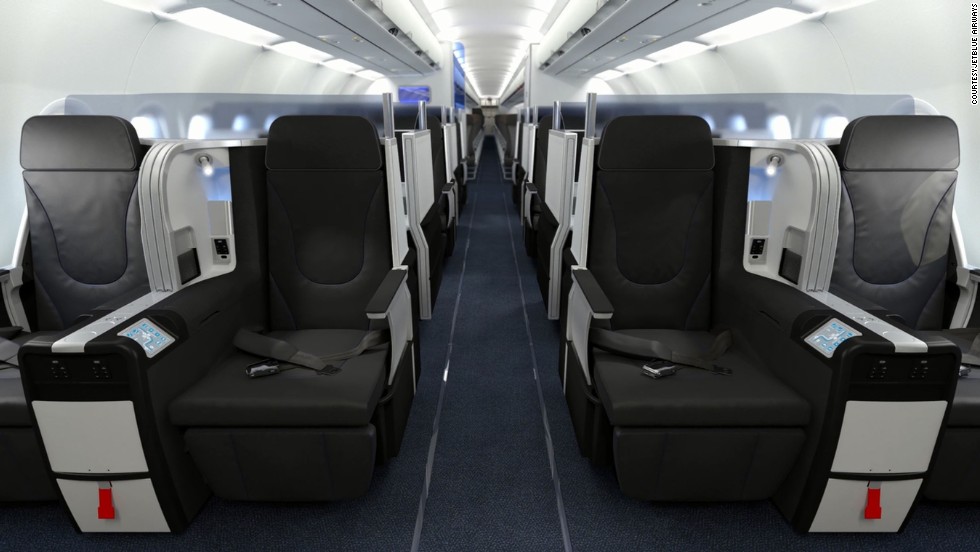 (Source: CNN.com http://edition.cnn.com/2013/09/30/travel/jetblue-introduces-premium-service/)
JetBlue first launched its Mint premium service in mid-2014 on some transcontinental flights between New York and Los Angeles. The service operated on a dedicated fleet of Airbus A321 aircraft. It offered lie-flat seats and other in-flight amenities for a premium travel experience. The Mint service became a huge success within under a year, its widespread popularity exceeding expectations. Originally, the company had only hoped to capture the interest of wealthy individuals and small businesses for its Mint service. On the contrary, Mint's popularity had also begun to attract large corporate clientele at the expense of larger airlines such as American, Delta, United, and Virgin America. Thus, as the first and only low-cost American airline to offer a premium travel product, JetBlue differentiates itself from its immediate rivals, but is also able to compete with bigger airlines with its upscale services.
Since Mint's launch, JetBlue has already expanded the service's scale to match growing demand, now offering Mint flights from New York and Boston to several Caribbean destinations. In April, the company announced its plans to move forward with the next wave of Mint expansion. It voiced goals to offer the Mint service on seven more transcontinental routes and expand the service to operate on 70 daily flights by the end of 2017.
In the long run, acceleration of JetBlue's Mint expansion plans will significantly boost the company's unit revenue growth and profitability as it courts more high-fare business travelers. JetBlue has already experienced success with boosting its margins on routes where it has deployed the Mint service. For instance, JetBlue's New York – Los Angeles route's profit margin increased by 17 percentage points compared to the system average. Its New York – San Francisco route also saw its profit margin climb 18 percentage points. Before JetBlue had inaugurated the Mint service on these routes, they were significantly less profitable relative to the system average, but now reap the most profits for the company.
The rapid growth of Mint over the upcoming months will also help JetBlue reap market share gains against other carriers such as Delta and American Airlines, as JetBlue will undercut their first-class fares. The Mint service's success may also provide an opportunity for JetBlue to expand overseas and tap the transatlantic premium market. While it will be difficult for JetBlue to compete with long-haul low cost carriers such as Norwegian and WOW Air, JetBlue has a chance to disrupt the upper end of the transatlantic market with its Mint product. While JetBlue has not expressed explicit overseas expansion plans, its order for 30 Airbus 321 gives JetBlue the range capability to fly such routes. These reflect JetBlue's untapped growth potential
Cost Control and Capacity Cuts
JetBlue has already begun taking actions to counter against its recent downward revenue trend.  According to a statement in its Q1 report, JetBlue has quickly responded to the slump in RASM by cutting capacity growth in some markets, such as Puerto Rico and Colombia, to match demand slowdown to bring up profit margins. 
In addition, JetBlue will defer accepting delivery of 13 aircrafts from Airbus order by about four years. The company cut capital expenditures over the next few years to match its revised growth plans. However, this will not encroach upon company growth. JetBlue plans to continue expanding with a growth rate of 5.5% to 7.5% in 2017. Slashing capital expenses is projected to free up cash flow and decrease JetBlue's capital expenditure budget by up to $800 million in the 2017-2020 period. With more cash available, JetBlue may be able to afford to return more cash to its shareholders through share buybacks.
Conclusion
JetBlue is on pace to following a favorable earnings trajectory with more Mint routes on the horizon as it aligns its supply with demand. Amid rebounding ticket prices, slower capacity growth, and reduced capital spending, JetBlue is likely to return to consistent EPS growth in the upcoming months. The company maintains a sustainable equilibrium between capital spending and fostering expansion. Its forward-looking strategies and self-awareness will help its stock to continue gaining momentum as this smaller carrier holds larger growth prospects compared to its bigger rivals.
I Know First Algorithm Bullish Forecast For JBLU
I Know First currently maintains a bullish stance on JBLU with signal strength 108.46 and predictability 0.75 for the 1-year forecast. The predictability increases in the long term, indicating that JetBlue is a strong investment in the long term.
Past I Know First Forecast Successes With JBLU
In such as the one dated on March 10, 2015 the algorithm accurately forecast a signal for JetBlue.  In a 3 month span , the stock rose steadily by 11.34%, beating the S&P 500 return of 1.24%.  The market premium calculates to an astounding 10.10%.
This bullish forecast on JBLU was sent to I Know First subscribers on March 10,2015.
I Know First Algorithm Heatmap Explanation
The sign of the signal tells in which direction the asset price is expected to go. (positive = to go up = Long, negative = to drop = Short position). The signal strength relates to the magnitude of the expected return. We use the signal strength for ranking purposes of the investment opportunities.
Predictability is the actual fitness function being optimized every day and can be simplified explained as the correlation based quality measure of the signal. This is a unique indicator of the I Know First algorithm. It allows the user to separate and focus on the most predictable assets according to the algorithm. Ranging between -1 and 1, one should focus on predictability levels significantly above 0 in order to fill confident about/trust the signal.

---
---