AT&T Time Warner Deal: Time Warner Cable (TWX) Merger with AT&T: "Too Big" to Exist?
This article was written by Esther Hanon, a Financial Analyst at I Know First.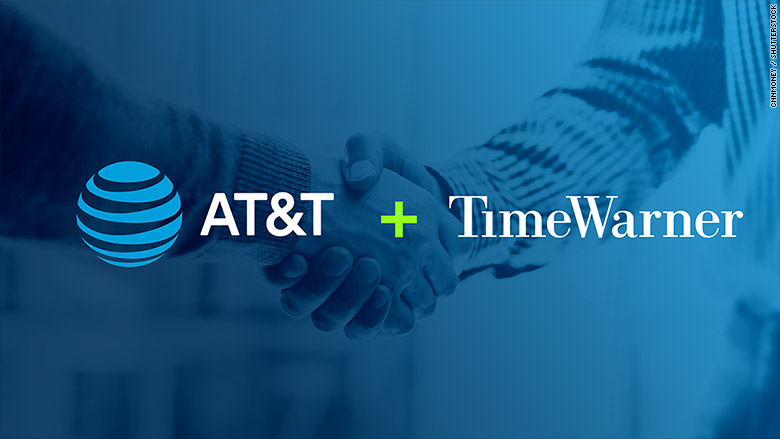 [Source: CNN Money, April 24th, 2018]
AT&T Time Warner Deal: Time Warner Cable and AT&T Battle the DOJ In Response to Potential Merger: 
"Netflix, Amazon and Google have enormous potential to bring new content to consumers but for at least many years to come, they have to go through AT&T and Comcast to get to their customers.That gives AT&T enormous market power."
—  Gene Kimmelman, a former antitrust attorney for the DOJ
Summary:
AT&T for months has been facing off against the Department of Justice which is seeking to block its merger deal with Time Warner, which controls channels like HBO, CNN, and Warner Bros. Studios.
AT&T says the deal would allow it to compete with firms, like Netflix and Amazon, which are seeking to dominate online streaming. The government is arguing the combination would give AT&T too much power and ultimately would lead to higher prices for consumers.
Chief Executive Randall Stephenson tells a judge the DOJ's antitrust claims against AT&T's purchase of Time Warner Inc. were "absurd" rejecting the government's arguments that the enlarged company would use its powers to raise prices.
The Justice Department is arguing that the AT&T-Time Warner merger ultimately will means consumers will pay more — 45 cents a month more, according to its calculations. AT&T said those calculations are wrong
[Source: Yahoo Finance, April 24th, 2018]
Time Warner Inc Appears to Have Nothing But Upside
Over the past month, Time Warner stock outperformed the market by 2.5%, as news of the AT&T- Time Warner conglomerate have surfaced, and as progress is being made in regards to the merger.
Media conglomerate Time Warner Inc has had a bumpy ride the past few months after the company's share price plummeted after news spread that the anti-trust regulators were heavily engrossed in the merger deal between Time Warner and AT&T. AT&T, in fact, is set to purchase Time Warner in this monumental merger deal. However, as the trial has been unfolding over the past few weeks, it is looking more and more likely that the firms will merge as planned, an outcome that would send Time Warner stock 10% higher.
The Department of Justice is worried that letting AT&T own TWX's content would allow the firm to raise fees for distributors, a cost that the DOJ says would eventually be passed on to customers. However, AT&T has been adamant that the reason for the merger isn't increasing content fees, but instead creating a better advertising model. From that vantage point, increasing fees for Time Warner content would be a poor choice by AT&T management, because it would cause the firm to lose out on advertising revenue — its main objective for the deal. TWX CEO Jeff Bewkes matched that sentiment when he took the stand on Wednesday, saying that without AT&T's infrastructure and technology, Time Warner doesn't stand a chance against subscription services like Netflix and Amazon. According to Bewkes, this is their chance to stand up to these influential content mammoths.

[Source: Both companies via the Wall Street Journal, April 24th, 2018]
It's not beneficial to either company to withhold programming because it would result in major advertising revenue losses. On Thursday AT&T CEO Randall Stephenson also argued that by allowing the two to merge, regulators would actually be helping expand innovation in the streaming space as AT&T is planning to bring out its own, slimmed-down subscription service called "Watch" for just $15 per month. Stephenson said the merger will allow AT&T to build out its mobile video offerings by joining AT&T's platform with TWX's content. The deal, he said, would help foster competition in the streaming space rather than stifle it.
AT&T's Chief Executive Randall Stephenson told a judge the Justice Department's antitrust claims against his company's planned purchase of TWX were "absurd" and rejected the government's arguments that the enlarged company would use its powers to raise prices. While standing in testimony, and in defense of his company's proposed $85 billion acquisition, Mr. Stephenson called it a "vision deal" that is crucial for AT&T to compete in a rapidly shifting digital-media landscape. Taking the witness stand shortly afterwards, the AT&T chief explained his long history with the company and how he came to believe that AT&T, with its wireless and satellite assets, needed to own a media company like Time Warner, which owns the Turner networks, HBO and Warner Bros. studios. Mr. Stephenson said AT&T was focused on growing so it could compete for advertising dollars with technology giants like Amazon, Facebook, and Google owner Alphabet Inc., rather than the traditional TV providers that vie for its customers today.

[Source: Statista, April 24th, 2018]
The Justice Department sued to block the deal in November, saying it would hurt consumers and competition by allowing AT&T to charge cable-TV rivals higher prices for Time Warner channels like TNT and CNN. Executives for AT&T and Time Warner noted the government's reasoning defies logic at a time when successful streaming services from Netflix, Amazon and others offer consumers plenty of alternatives to traditional TV. U.S. District Judge Richard Leon is deciding whether to allow the deal to go ahead.
These digital giants have become masters in keeping customers engaged on their platforms, including through the use of premium video, and AT&T wants to do the same.  To achieve that, "[AT&T] needs to own content." The testimony Thursday followed an appearance Wednesday by Time Warner Chief Executive Jeff Bewkes, who from the witness stand said the government was being "ridiculous" with its allegation that the companies would use this merger to squeeze rival pay-TV providers, resulting in higher prices for consumers. He did say, though, that other industry players saw media consolidation as a way to gain more leverage. "We did not agree with that," Mr. Bewkes said. "We did not think it was the right thing to do."
[Source: Mekko Graphics, April 24th, 2018]
Mr. Stephenson said wide distribution was key to Time Warner's success. "The value of a content company is a function of how many people watch it. Period," he said.
The Justice Department, which began cross-examining Mr. Stephenson late in the afternoon, appeared to be having trouble directing valid blows against the him, partly because Judge Leon sided with AT&T's objections to certain questions the government sought to ask. Among the points the Justice Department was able to make, Mr. Conrath said the kinds of ads that have made Facebook and Google successful don't lend themselves to competition from television. He also said consumers might object to AT&T's plans to use their personal data to show them targeted video advertisements. Mr. Stephenson responded that advertisers want an alternative to the digital giants, even if it's on a different platform, and said AT&T would be collecting certain consumer data with permission from its customers. After the testimony, both companies rested their defense and the government began calling witnesses in rebuttal. The trial, which began in mid-March, could wrap up next week. Judge Leon's decision isn't expected for several more weeks.

[Source: Investopedia, April 24th, 2018]
Also testifying over the past two days was Mr. Stephenson's deputy, John Stankey, who told the court he tried multiple ways to solve AT&T's challenges before agreeing on Time Warner. The company first looked at acquiring a number of small companies before its strategists decided to "hunt bigger prey" like Time Warner. Mr. Stankey said initially he wished to acquire access to channels owned by Walt Disney Co. and 21st Century Fox Inc., two companies now in talks to merge businesses, but was rejected. A dinner in 2016 with a Fox executive left him convinced he should take another path —  Time Warner presented that solution. AT&T's Time Warner bid is just the latest in a string of multibillion-dollar purchases the former Bell operating company has made over the past three decades. In 2015, the company bought DirecTV to get the rights to live TV channels along with a base of 20 million subscribers. Mr. Stankey said the DirecTV deal didn't meet all the company's targets when it acquired the business for $49 billion. Its subscriber base has slid over the past three years, and too few wireless customers accepted the company's offer to package pay-TV plans with cellphone service, an arrangement Mr. Stankey called an "unnatural bundle."
[Source: The Wall Street Journal via the Verge, April 23rd, 2018]

[Source: CNET, April 24th, 2018]
 Analyst Recommendations:
According to analysts' recommendations from Yahoo Finance, Time Warner is a "Hold." Seven analysts recommend a "Buy", Twenty analysts recommend a "Hold".
[Source: Yahoo Finance, April 23rd, 2018]
I Know First's Success With Time Warner Inc.
On March 15th, I Know first published a bullish forecast for TWX for the 14-day, 1-month, and 3-month time horizon. For the 1-month time horizon, which pertains to this point in time, the signal was 66.07 and the predictability was 0.37, demonstrating a relatively strong strength for TWX stock. Moreover, the signal and predictability for 3-month period shows greater promise and the metrics are more impressive, yielding a 120.21 signal and 0.48 predictability.
Time Warner Inc. Stock Price with 20-day Moving Average:

Current I Know First subscribers received this bullish forecast of TWX on March 15, 2018. 
To subscribe today click here.
Conclusive Thoughts:
Looking at what's been said at trial and the argument against the merger, it appears that a merger is on the horizon. In that scenario, TWX investors win because at just around $96 per share, it's still well below AT&T's bid of $107.50. Of course, with the trial still dragging on, the merger wouldn't be complete until later this year at the earliest, so investors would have to be ready to ride out some bumpiness. However, with a merger looking like the most likely outcome, buying TWX now looks like a good bet. Of course, there's still a possibility that regulators will block the deal which would be detrimental to TWX stock. While that outcome looks like the least likely, it's still not as bad as you might think.
If the deal doesn't go through, TWX is likely to slide significantly in the aftermath as investors digest the news. However, once the dust settles, Time Warner stock will probably be able to climb back up to its current value because although the company doesn't have a clear future, its earning power is solid for the near term. Some analysts are even expecting TWX stock to benefit if the deal is blocked. Deutsche Bank has set a price target of $120 for Time Warner if the firm continues on its own, saying that the company is actually worth much more than AT&T has agreed to pay for it. When mergers get wrapped up in antitrust litigation, it can be a scary place to put your money. However, in this case, TWX looks like it will come out on top no matter the outcome. The most likely situation would give investors a more than 10% upside, but even if the deal falls through, losses are unlikely as long as shareholders have a bit of patience. For that reason, TWX stock appears to be in a unique win-win situation that offers investors a great deal of upside with very little risk.
I Know First Algorithm Heatmap Explanation:

The sign of the signal tells in which direction the asset price is expected to go (positive = to go up = Long, negative = to drop = Short position), the signal strength is related to the magnitude of the expected return and is used for ranking purposes of the investment opportunities.
Predictability is the actual fitness function being optimized every day and can be simplified explained as the correlation-based quality measure of the signal. This is a unique indicator of the I Know First algorithm. This allows users to separate and focus on the most predictable assets according to the algorithm. Ranging between -1 and 1, one should focus on predictability levels significantly above 0 in order to fill confident about/trust the signal.
To subscribe today and receive exclusive AI-based algorithmic predictions, click here.
About Time Warner Inc:
Time Warner Inc. (NYSE: TWX), incorporated on February 4, 2000, is a media and entertainment company. The Company operates through three segments: Turner, which consists of cable networks and digital media properties; Home Box Office, which consists of premium pay television and over the top (OTT) services and premium pay, basic tier television and OTT services internationally, and Warner Bros., which consists of television, feature film, home video, and videogame production and distribution. The Company also holds interests in companies that operate broadcast networks. The Company holds interest in Central European Media Enterprises Ltd. (CME), which is a broadcasting company that operates television networks in Bulgaria, Croatia, the Czech Republic, Romania, the Slovak Republic and Slovenia. The Company has an interest in The CW broadcast network (The CW), which includes a lineup of advertising-supported original programming, such as The 100, Arrow, Crazy Ex-Girlfriend, DC's Legends of Tomorrow, The Flash, Frequency, iZombie, Jane the Virgin, No Tomorrow, The Originals, Reign, Riverdale, Supergirl, Supernatural and The Vampire Diaries, as well as a block of advertising-supported programming. The CW also operates CW Seed, The CW's digital-only platform for original programming, which is available online and on mobile devices.