Coronavirus: Stock Market Threats and Opportunities
This article about Coronavirus impact in stock market was written by Gabriel Plat, a Financial Analyst at I Know First.
Summary
COVID-19 cases are increasing and not showing signs of stopping;
Automotive and flight companies could take the biggest hit in 2020;
Medical and biotech stocks are among the opportunities in this situation;
Netflix and other streaming services can benefit from the outbreak.
What is exactly the Coronavirus?
According to the World Health Organization, the Coronaviruses are a family of viruses that can cause illness in animals and humans. The disease caused by a coronavirus that is spreading all around the world is called COVID-19. The first cases of the disease were found in Wuhan, China, in December 2019.
Because of its infectious characteristics, the disease started spreading to other countries. On February 27, the World Health Organization published a report announcing that over 81,000 cases of the disease were confirmed, with 78,000 being in China. The number of deaths reached 2,718, with 44 of them outside China. Countries such as South Korea, Japan, and Italy also announced more than one hundred cases in their territory. With Brazil confirming its first case, COVID-19 is now officially in all continents of the planet.
The Stock Market is Also Suffering the Symptoms
COVID-19 is not only a problem for people's health. As seen in the last weeks, stocks all over the world struggled. Global markets have already lost 3.6 trillion dollars in the last six days, a struggle that can also be seen in indexes like S&P 500, Dow Jones, and Nasdaq.
Of course, different factors impact the price of a stock. However, the fear of the coronavirus is leading investors in their decisions when negotiating in the stock market. One good example of this situation is VIX, "the fear index", which is up by 90% in the last week.
Also, countries with new cases of the disease saw their indexes fall. Bovespa Index from Brazil fell 8.36% a week after the confirmation of the first coronavirus case in the country. Also, indexes from Italy (FTSE MIB) and Japan (Nikkei) shared the same fate.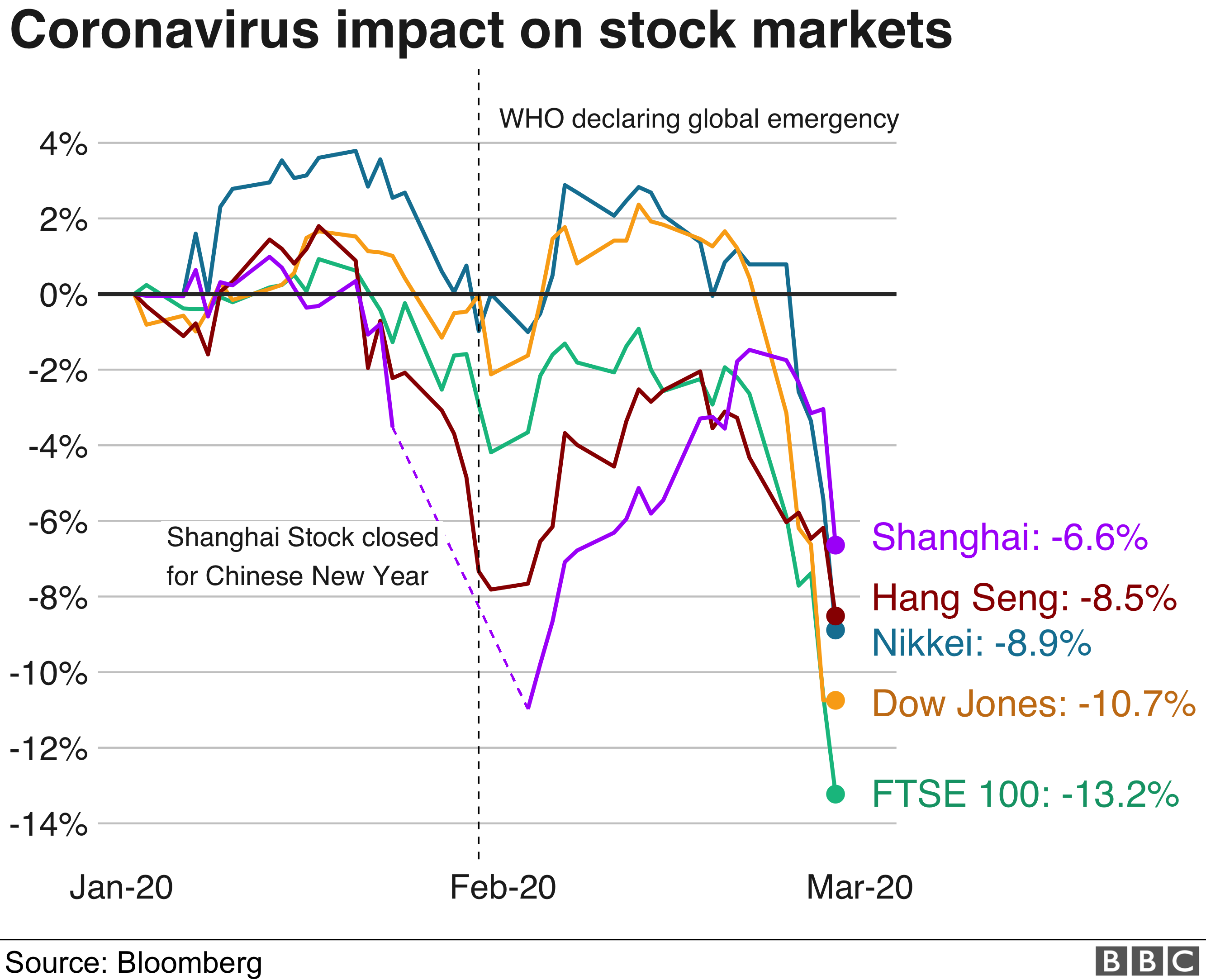 Some Stocks Are Sick
With the movement of the stocks over the world being influenced by the coronavirus, it is hard to predict anything without considering the effort to stop or at least minimize the impact of COVID-19. By the time the medicine finds a way to control this spread, it is reasonable to think that stock markets would trend back to the stage they were before the virus.
According to Kate Broderick, head of research from Inovio Laboratory, a vaccine prototype is already developed and should be tested in humans soon. "The pre-clinical tests start this week and we expect to have a final product to test in humans by the summer", said Broderick.
Besides, the vaccine should pass different tests before it starts being produced on a large scale. The expectation is that the vaccine could be ready only in 2021. With that being said, what can we expect from 2020?
Short- and Mid-term Problems
Without any possibilities to contain the virus's spread in the short term, the expectation is to see global markets keep falling. Companies that depend on their huge industries in the most affected countries might as well have problems. Toyota announced that Japanese plants may be affected by issues related to the coronavirus, while Hyundai shut down one of its plants and Tesla saw a decrease in the number of vehicles registered in China.
Also, flight companies and their supply chain stocks might struggle with coronavirus. Without any signs of containing the spread, people would choose not to travel, impacting the flight companies' profit. Lufthansa already declared that some of their short- and medium-haul flights will be reduced in response to coronavirus. Other companies like United Airlines and American Airlines announced changes due to the virus spread. All those companies lost value in the stock market since the coronavirus started spreading all over the world.
Since we don't have an exact timetable for when the threat will be over, investing in companies with that profile seems risky. Even though the risk is not exactly a problem when a high reward comes together, this might not be the case. Until any solution appears, it is hard to predict when and if these companies' stocks will increase their value.
Additionally, FED announced a cut in their interest rate mostly because of the coronavirus. Right after the announcement, several stocks took a hit. Considering Dow 30, all but one registered a loss after the interest rate cut, while S&P 500 and Nasdaq companies stocks also saw declines.
Diagnosing the disease correctly
In every situation, especially in the stock market world, we can observe threats and opportunities. The situation right now makes it easy to see what we should avoid, but how about what we should take a closer look at? What are the opportunities in a time when an outbreak — that can turn out to be a pandemic — is threatening the planet?
At first glance, the biggest opportunity is the medical and biotech stocks. The biotech company Moderna is one getting hyped because of the coronavirus. Recently, Moderna announced that a vaccine is ready for the first tests, which impulsed its stock (MRNA) by over 56% in the next few days. Also, Vir Biotechnology (VIR) jumped from $12 to nearly $60 over one week mainly because of speculation that they could be the first to have the vaccine for coronavirus.
Why Not Think Outside The Box?
Not only companies that are searching directly for a vaccine should be viewed as an opportunity. Companies like Crispr Therapeutics (CRSP), which can get the genome sequence and speed the process of creating the vaccine, might as well be worth a look. Alpha Pro Tech (APT), a company that specialized in masks and protective apparel can increase its sales if the disease remains for more time. The same goes for Lakeland Industries (LAKE), a company that produces protective clothes for high-risk workers. Their stock rose from $5 to $21 in just one week and the trend may not go down.
The opportunities don't remain only in the medical and biotech area. A virus outbreak forces people to avoid crowded places and, of course, travel. The number of people that will spend more time at home is increasing and that can be a good point to observe. Streaming services such as Netflix, Spotify, and Amazon Prime could get an increase in the number of viewers and this should boost their stocks. Video games might follow the same path, which could help not only Sony, Nintendo, and Microsoft, but also companies in the supply chain such as NVidia and AMD.
Conclusion
The coronavirus and the COVID-19 placed a huge question mark on the stock market. Right now, investors are deciding by fear and not rationally and this is trending the market down. This may lead us to different threats and opportunities.
Companies directly linked to the disease should be avoided. Factories in countries affected by the disease are shutting down and this doesn't help bigger companies. At the same time, flight companies are facing problems because of the virus.
Meanwhile, there is always an opportunity to take advantage of it. While medical and biotech stocks can have a bullish forecast, other sectors may be worth looking at. Since people will avoid going out home, streaming services and video-games companies' stocks can rise during this period.
I Know First team presents a new forecasting package – Coronavirus New Market Opportunities. We utilize our proprietary AI-powered predictive algorithm to uncover the most promising market opportunities that may arise during these extraordinary times from various market sectors, both on the long and short sides. This includes assets such as gold and relevant commodities, biotech companies' stocks, pharmaceutical companies' stocks, semiconductors technological sectors stocks, and more. We see the growing market potential in the nearest future and we suggest getting the Coronavirus stock market forecast such that your investment strategy does not lose this momentum.
---
To subscribe today click here.