Algorithmic Forecasting to Increase Profits of E-Trade Investors
This premium article on E-Trade investors was written by Jessica Kremer – Analyst at I Know First.
Summary
E-Trade stands out from other online brokerages, since the platform has more experience, more trading options, and more resourceful material than competitors.
Recently, E-Trade has done well; they have experienced increases in account numbers and were acquired by Morgan Stanely.
I Know First can provide E-Trade investors with multiple stock forecasting options, including custom forecasts for individual portfolios.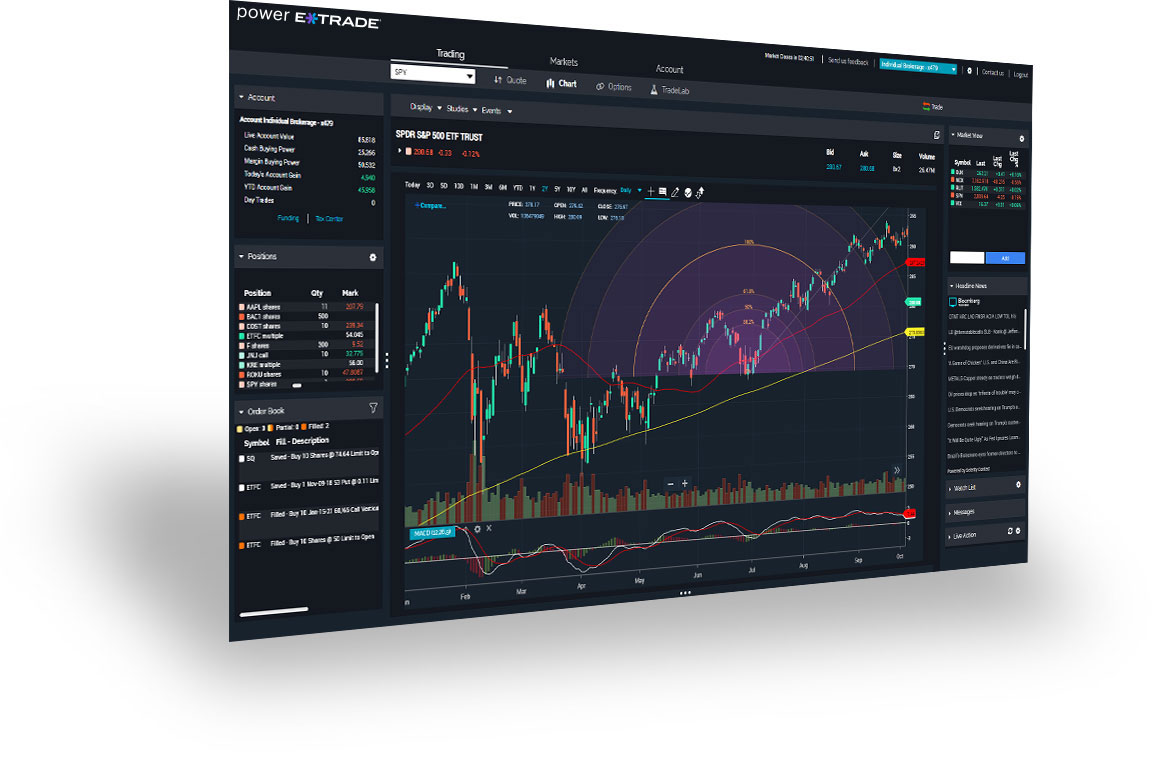 E-Trade is an electronic trading platform started four decades ago. The platform has many account options for investors to choose from, including brokerage, retirement, and managed portfolio options. The large diversity accounts enables all investors, new or experienced, to find the best package for them.
How the Company Differs From Competitors
E-Trade differs from competitors such as Robinhood and Revolut due to its strong online presence. While other competitors may be newer, E-Trade was one of the first brokerages to go online. The age and reputation of the platform recruits more experienced investors, while platforms like Robinhood are known for their novice investors. The longevity of the platform also assures that investors do not have to worry about technical flukes, such as experienced on Robinhood during the beginnings of the COVID-19 crash.
In general, E-Trade offers investors more trading products and tools than its competitors. Not only does the company offer a wider range of trade offerings, as can be seen below, but the platform houses more resources for investors. E-Trade provides investors with real-time buying power and margin information, plus real-time unrealized and realized gains. Additionally, the platform has plenty of tools, technical indicators, studies, calculators, idea generators, news, and professional research.
Morgan Stanley also announced the acquisition of E-Trade at the end of February. This acquisition could be lucrative for E-Trade investors. As stated in the press release, Morgan Stanley's "full-service, advisor-driven model coupled with E*TRADE's direct-to-consumer and digital capabilities," would have the best-in-class product and service offerings. All in all, this acquisition will certainly provide good direction and management for E-Trade, contributing to further future success.
Success and Potential For Growth
E-Trade has experienced growth in its users recently. In May, the number of daily average revenue trades (DARTS) were a record 982,000, up 6% from the previous month, with derivative DARTs at a record 252,000, as reported by Yahoo Finance. This increase accounts for a more than 200% increase year over year. This increase in trading also continued in June, with DARTs of 1,195,000 and derivative DARTs of 277,000 through June 10, 2020. All in all, E-trade saw its five largest DART volumes in June, achieving a record of 1,470,000 DARTs and 372,000 derivative DARTs on June 5.
In the month of May, 116,447 users created new accounts on E-Trade. In total, at the end of May, E-Trade had 7.8 million accounts. This increase can also be attributed to June, as can be seen by the graphic below. From May to June, E-Trade was able to make gains in real estate, utilities, and industrials. This growth, in multiple sectors, and the company's general ability to retain customers implies future success for the company.
Why E-Trade Investors Could Benefit From I Know First's Algorithmic Forecasting
Although E-Trade and its investors have been successful in the past, both private and institutional investors can benefit from our proprietary developed AI algorithm. Our algorithm generates predictions on expected price movement and estimates the relative magnitude of the price change. Our model is 100% empirical, meaning it is based on historical data and not on any human derived assumptions. It is also self-learning, and uses over 10 years of stock market data to constantly evolve, re-calibrate, and enhance itself. Whether a private or institutional investor, using our algorithm would provide an objective and statistically driven decision, helping all investors be more confident in their decisions.
Examples of I Know First's Success
In the past, our algorithm has forecasted the stock market better than human analysts. Recently, I Know First's bullish airline forecast beat out investing veteran Warren Buffett, who in early May fully liquidated his shares in four airlines. After his liquidation, JETS ETF surged 55%, proving our forecast correct. This forecast reflected our winning stock predictions for Delta Airlines (NYSE: DAL), American Airlines (NASDAQ: AAL), and Southwest Airlines (NYSE:LUV). The success of our algorithm, especially when in contradiction to experienced investors, further demonstrates the accuracy of our algorithmic forecasting.
I Know First also consistently produces accurate forecasting predictions, as demonstrated through our evaluation reports. Our daily U.S. stocks forecast performance evaluation report, among others, exhibits this success. As can be seen by the graphics, in both the short and long term, our algorithm produces returns for investors. Due to this, investors can be confident in the success of our algorithm and its objective analysis of the market.
In addition to the success of our algorithm, our forecasts also span multiple industries and indices. The graphic above shows E-Trade's top five dividend yielding stocks, consisting of industries such as energy and technology. I Know First provides forecasts for such industries, with our energy and tech stock forecasts including both short and long time horizons.
One example of our forecasts correctly predicting the market in the short term can be seen with our energy stock forecast issued on June 23. This seven day forecast earned a 100% hit ratio. In addition to short time horizons, our long time horizon forecasts are also successful. Issued on April 12th, this tech giants three month forecast also earned a 100% hit ratio. All in all, our forecasts span multiple industries and time horizons, providing many investors with differing portfolios correct predictions.
How E-Trade Investors Can Benefit From Our Forecasting
I Know First can offer E-Trade users three different package options depending on their portfolio preferences. These packages would provide investors with more information and allow them to make more informed decisions. Our first package option includes our existing packages.Our existing forecasts come in different packages, with some being industry specific. We also provide general non-industry specific forecasts, such as this one year mega cap stock prediction. More information about our existing packages can be found here.
Additionally, we can provide investors with a custom forecast with the most promising stocks in the long and short term. Each investor can pick the optimal number of stocks for the forecast from the top 100 most traded stocks. Finally, I Know First can generate personalized stock forecasts. Investors can tailor their forecasts for their specific portfolio requirements. In this instance, I Know First will provide the investor with predictions for the individual stocks in his or her portfolio.
Conclusion
E-Trade is a highly successful company with a distinguished platform from competitors. Despite its success, E-Trade investors can still profit off of I Know First's algorithm forecasting. Our forecasting would provide investors with data-based predictions instead of human ones. This would allow them to be more confident in their portfolios. These forecasts can then serve as indicators that can support an investor's investment decision making process. Our self-learning algorithm is also able to make predictions better than other algorithmic forecasters due to its self learning ability and over a decade running time. Overall, our forecasts in conjunction with E-Trade's already successful platform will allow investors to be more confident in their decisions, and ultimately, increase their returns.
To subscribe today click here.
Please note-for trading decisions use the most recent forecast